Kundalini Yoga Workshops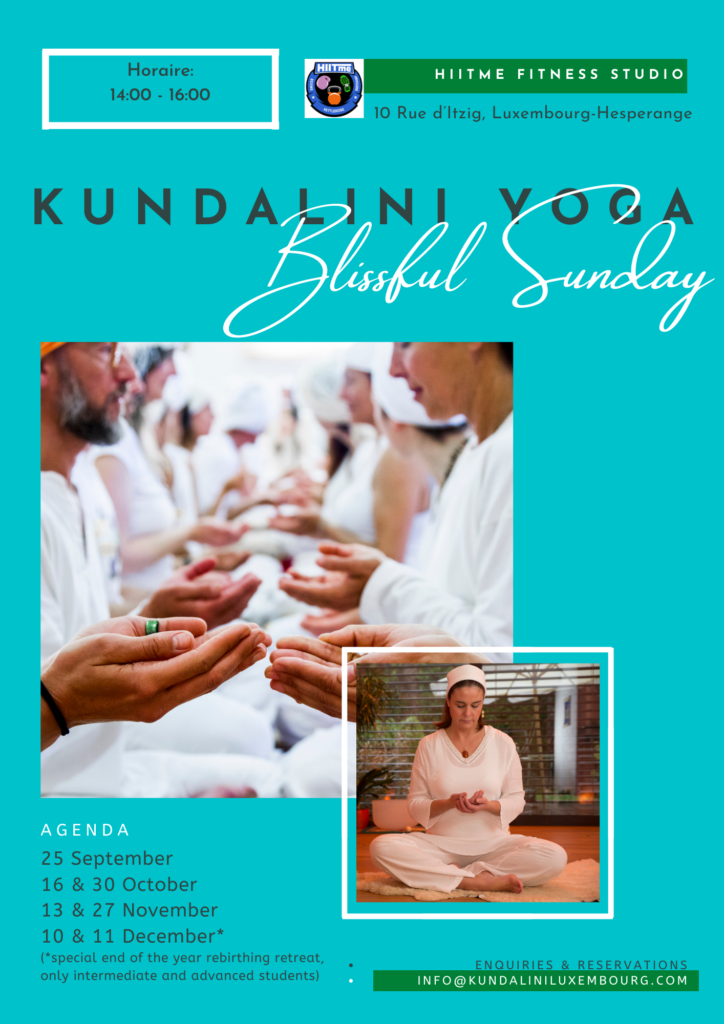 Join Nam Hari Kaur (Melanie) as she starts a new cycle of workshops in the HIITtme Fitness Studio in Hesperange. The workshops are open to all levels, beginners included, with the exception of the weekend in December. We are building op to a re-birthing experience, which is not recommended to attend if you are a beginner. Please complete at least a few other workshops before, if you would like to join the re-birthing weekend in December, so you will be prepared to participate in this magical experience of rebirth!
Venez rejoindre Nam Hari Kaur (Melanie) pour un dimanche après-midi en douceur avec une expérience du Kundalini Yoga dans les locaux du studio fitness HIITme à Hesperange. Les ateliers sont ouverts pour tous les niveaux, y inclus les débutant(e)s. La seule exception sera le weekend en décembre. Nous travaillons sur un chemin qui nous emmènera en décembre à revivre une séquence de renaître et ceci est fortement décommandé pour les débutant(e)s. Nous vous invitons donc à joindre des séances avant cette forte expérience du renouveau en décembre, pour y entrer bien préparé(e)s!
Agenda
Blissful Sunday afternoon workshops
14h00 – 16h00

25 September
16 & 30 October
13 & 27 November
10 & 11 December*
Location
HIITme Studio
10 rue d'Itzig
L- 5852 Hesperange
40€ par participation / energy exchange per workshop
(*except December, sauf décembre)