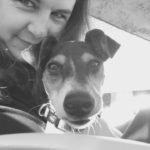 My name is Melanie Reid and I am the founder of ELATE Wellbeing Luxembourg, and co-founder of Kundalini Yoga Luxembourg. Together with Louise my Fox Terrier, I welcome you to your life-changing opportunity.
I started Kundalini Yoga in 2013, and this changed my life. Today I know that you do not end up in a Kundalini Yoga class by chance. The force of Kundalini Yoga works on your body, tests your endurance, your acceptance of pain and probes your mind to keep up. It also clears your subconscious of negative locks.
My spiritual name is Nam Hari Kaur, which means the kind and creative princess/lioness who meditates upon the Name of God with all her heart. I am a level 2 KRI (Kundalini Yoga Research Institute) certified Kundalini Yoga Teacher, trained by Cherdi Kaala International as part of the Karam Kriya School founded by Shiv Charan Singh. I am also a trained Life Coach by Carl Massy, who is a co-founder of The Practice in Bali, Indonesia.
I am currently studying life through numbers, and numbers through life, to become a Karam Kriya Consultant.
What is Karam Kriya?
Karam Kriya is inspired by the teachings of Yogi Bhajan and developed by Shiv Charan Singh. It is a completing activity that uses Applied Numerology to provide interactive diagnostic tools for transformation. For example your date of birth provides a window into your life patterns, which is also your karma. Karam Kriya is a scientific approach to understanding the influence of the law of karma in your life and through this learning rendering your history transparent. In this way, we can change our self-experience and our relationship with the world. It is thus possible to improve the opportunities of fulfilling our true destiny as we pass through time and space.
Studying Karam Kriya is one of the most intense journeys I have been on since starting Kundalini Yoga. If you are looking to dive deeply into a new level of being you, then send me a message and reach out to me for more.
I am looking forward to it,
Sat Nam,

Yoga Photo credits: Ricardo Vaz Palma, and Philippe Reuter REVUE