Kundalini Yoga Introduction
13 September 2016 at 6:30 pm

-

8:00 pm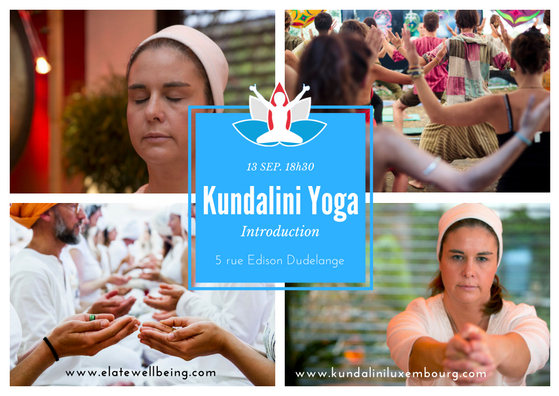 Kundalini Yoga Introduction
The first session of the new season in Dudelange is dedicated to an initiation to Kundalini Yoga. If you have never done Kundalini Yoga before, this one is for you!
Kundalini Yoga is complete and powerful. The actual experience goes straight to your heart. It is the fastest way to establish an aligned relationship between the body, mind and soul. You gain a strong immune system, vital glands, a strong nervous system, good circulation, and an awareness of the impact of your habits.
This foundation gives you energy and lets you deal with the mental and spiritual facets of your life.
All levels
Admission 10€
Register
Find out more about Kundalini Yoga: A5_kundalini_FA
---
Le premier cours de la nouvelle saison à Dudelange sera dédiée à une initiation au Kundalini Yoga. Si vous voulez essayer le yoga Kundalini, c'est pour vous !
Kundalini Yoga est une technique de relaxation et d'harmonisation puissante. Son efficacité comme méthode pour le maintien de la santé est de plus en plus scientifiquement prouvée.
Grâce aux mantras intégrés, Kundalini Yoga permet l'accès à la spiritualité. Une expérience signifiante qui peut être ressentie à travers tout son corps, loin de tout concept ésotérique.
Tous les niveaux
Admission 10€
Réserver
Télécharger notre flyer pour de plus amples informations : A5_kundalini_FA