Kundalini Yoga special – Depression & Burn-out
26 November 2016 at 4:00 pm

-

6:00 pm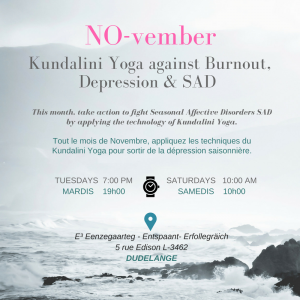 Depression can have many causes. Let us not just say that it genetics, or that it is because of this and that. A human being is far too complex to just say that it is this or that. My way to Kundalini Yoga was because I was suffering from burn-out, and a beginning of a mild depression. Today I have made it my mission to help others who suffer the same.
Yogi Bhajan says that depression is when you want to destroy what you have achieved. It's very human. What can construct must destruct. But whatever you can construct here and can receive hereafter you cannot destroy and that is your goodwill as God.
Spiritual Depression can lead you to compensate with other things, like money or sex. Until you realise that neither of which can fill this void inside. This shallow emptiness you feel remains.
Yogi Bhajan says that there is a simple answer to depression: pranayama. If you can breathe heavily from the navel point, you can get rid of depression really easily.
Join the NO-vember movement with a Kundalini Yoga Special class to focus on kriyas (sets of exercises) and meditations that work towards fighting SAD (Seasonal Affective Disorder), Mild Depression and burn-out.
Kriya for SAD and Depression will expand the aura and help alleviate mild depression and SAD (Seasonal Affective Disorder).
The kriya Freeing Your Energy to Defeat Depression helps to keep the pranic energy moving. When a person is feeling at his or her best, the energy in the body is flowing freely through the spine, body and limbs, and through the chakras. If the energy gets stuck or blocked, that person can suffer from physical ailments and depression.
The mudra in the Meditation for Burn Out is a dormant state of energy. We totally zero our authoritative magnetic field. This is the best thing to do when you think you are getting burned out.
"We don't need Free Will. We need the free flow of energy so we can handle our life when it is challenged." ~ Yogi Bhajan