Just Be a Woman – The Red Tent Temple Movement
27 July 2016 at 6:30 pm

-

8:00 pm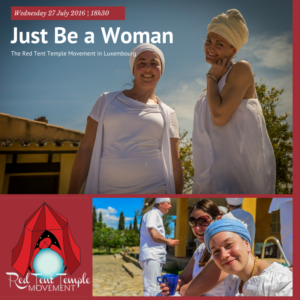 "You are a woman in the beginning, you are a woman now, and you are going to be a woman in the end. Be so." Yogi Bhajan
There is no doubt that our capacity as women is great. In fact, Yogi Bhajan said over and over again, that in trying to be equal to men, we were actually lowering ourselves. We are 16 times stronger, 16 times more intuitive, and 16 times greater than any man. So, why don't we believe it?
Just Be a Woman is based on the original idea of "The Global Red Tent Movement" which arose after the publication of the book "The Red Tent" by Anita Diamant.
Dr Isadora Leidenfrost, DeAnna L'am, Alicia Starkweather, are some of the activists who stand out and who have disseminated a lot of information over the Internet, and beyond.
The idea behind the Red Tent movement is that women need to have a place they can go and be safe, especially during the moon cycle. We have to regain the honour of this periodicity, the need to rest and be privileged at this time. It is also a time of the month in which a woman's physique is weaker whilst her mind is more attuned to the spiritual dimension. Unknowingly she becomes more ineffective on the social and rational level yet more open and strong in the psycho-spiritual field.
A woman is the Pure Creative Energy of the Divine.
She and her life is exactly what she creates it to be.
The Red Tent is a collective space where women share, nourish and enrich each other in terms of knowledge at all levels. Red Tents are private spaces where what happens is not disclosed and names are not mentioned in another context. What happens there is not subject to confidentiality.
Many of our wounds will only surface in an environment of awareness and acceptance. In an intimate and safe space there is freedom of expression and the chance to be heard. The healing experiences happen through storytelling. Others listen without judgement or the urge to advise, unless this is requested. These are sacred moments which heal traumas, blockages, fears.
"You must understand that you are a woman. When you write it, you should write it like this: I AM A WOMAN." Yogi Bhajan
For more information on The Red Tent Movement, please check
http://www.quinta-do-rajo.pt/activities/for-woman/red-tent/?lang=en
What to expect at "Just Be a Woman":
Women sit in a circle and pass and hold a stick in order to speak. This gives each the opportunity and right to speak and listen so that this happens in a fair way. No one dominates the space unless there has an urgent need for someone who may be in need of receiving more time. What goes on in the tent is at once secret and sacred.
We will also be chanting Healing Mantras and share tea & snacks.
Participation is by donation based & all money will proceed to Gurudakshina.